Go Back
Forgot your password? Click here
Professional Accounts
Licensed salon & spa professionals can set up a Professional Account which entitles them to professional only pricing, professional only promotions and additional educational and marketing resources available to our salon & spa customers.
If you already have a Professional Account with us, please sign in below with your email and password in the "Sign In to My Professional Account" section.
To create a Salon - Spa Professional Account, please enter your email and a valid Cosmetology License in the section called "Create a Professional Account" below and click the "Create Account" button. You will then be asked for additional information.
Sign In to Your Professional Account
Create a Professional Account
Welcome!
Please Choose One:

Or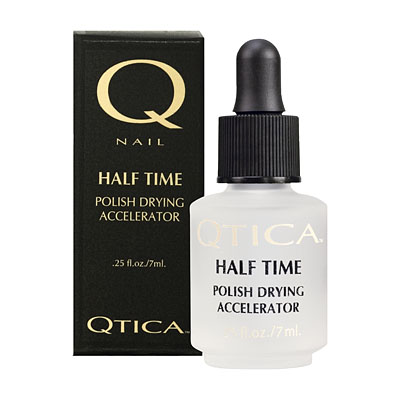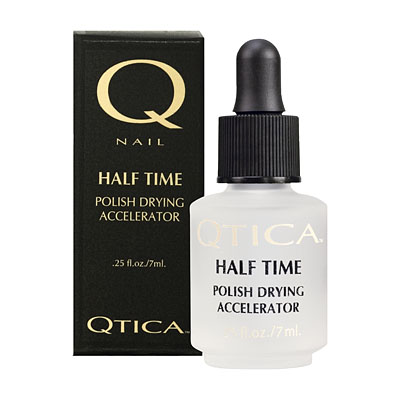 Qtica Half Time Polish Drying Accelerator 0.25oz
What is Qtica Half Time Polish Drying Accelerator
What Qtica Half Time Polish Drying Accelerator Does
How to Use Qtica Half Time Polish Drying Accelerator
The original and patented nail polish drying drops that thoroughly dry all layers of top coat, nail polish and base coat to the touch in minutes.
Say good bye to nail polish dents, bubbles, smudges and streaks on your tips and toes forever with Qtica Half Time Polish Drying Accelerator. Our patented combination of advanced silicates work by evaporating solvents from all layers of nail polish, dramatically accelerating drying time and fusing all layers together for better durability and longer polish wear. Manicures dry in five minutes, pedicures in 10 ; from base coat to top coat preventing any bubbles or dents. No more smudging, denting or streaking.
Professional use: Following topcoat tilt nails downward and apply one to two drops at base of nail, let spread naturally. Home use: Follow professional instructions.
Average Rating

Write a Review
Read Reviews(4)
Lend Us A Hand!
Have this shade? Help us build our community of color by tagging your photos

Submit a Pic
View the Gallery
Shade
Spotlight
Join our community - Tag your photos

for a chance to be featured here!
Submit a Pic
View Gallery
Average Rating

Write a Review
Read Reviews(4)