Page top
Skip top navigation
Professional Accounts
Licensed salon & spa professionals can set up a Professional Account which entitles them to professional only pricing, professional only promotions and additional educational and marketing resources available to our salon & spa customers.
If you already have a Professional Account with us, please sign in below with your email and password in the "Sign In to My Professional Account" section.
To create a Salon - Spa Professional Account, please enter your email and a valid Cosmetology License in the section called "Create a Professional Account" below and click the "Create Account" button. You will then be asked for additional information.
Sign In to Your Professional Account
Create a Professional Account
Welcome!

Please Choose One:

Or

Back to top
feedback
tell us what you think!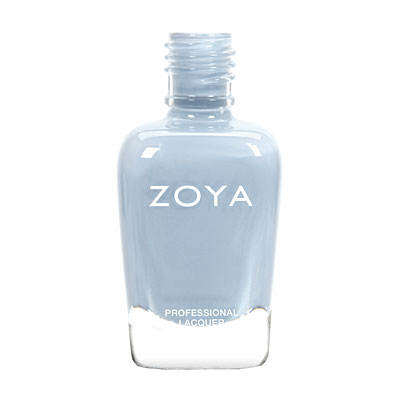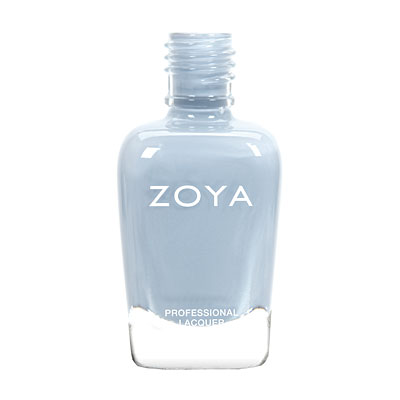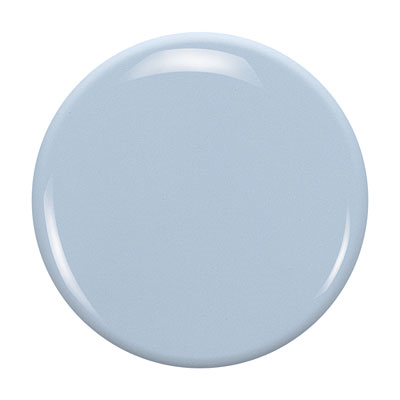 Kristen by Zoya can be best described as a gull gray nail polish with a mild bluish hue. An ideal cool neutral color that covers fully opaque in 2 coats.
Color Family - Blue
Finish - Cream
Intensity - 5 (1 = Sheer - 5 = Opaque)
Tone - Cool, Neutral

For Best Results
Step 1: Clean the nail plate with Remove Plus ( Remove ) nail polish remover and nail plate cleaner
Step 2: Choose and apply the right base coat: Zoya Anchor for regular healthy nails or Zoya GetEven for nails with ridges
Step 3: Apply 2 coats of your favorite Zoya Nail Polish Color
Step 4: Apply a coat of Zoya Armor Top Coat
Step 5: Drop one drop of Zoya Fast Drops to the base of your nail bed
Following these 5 steps guarantees up to 14 days of wear on natural nails.
Shade Spotlight
Shade Spotlight Join our community - Tag your photos #EverydayZoya for a chance to be featured here!
View the Gallery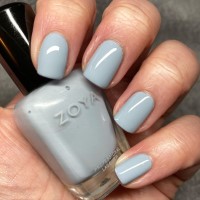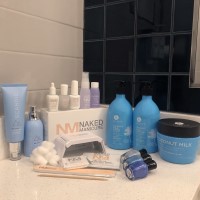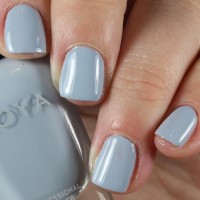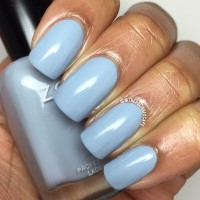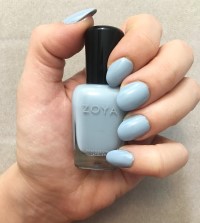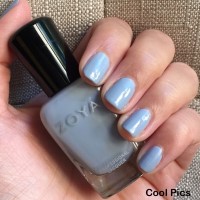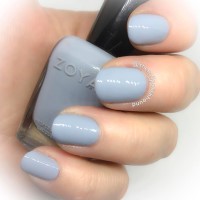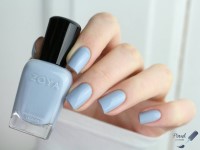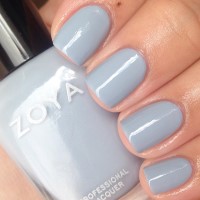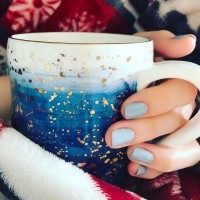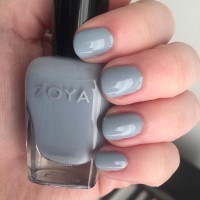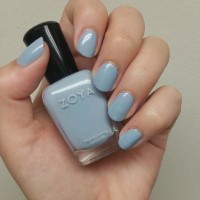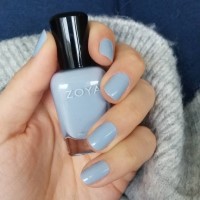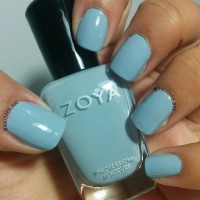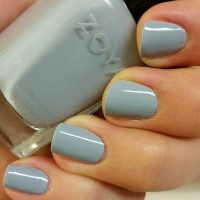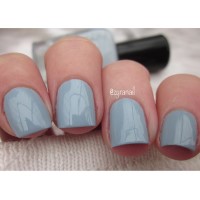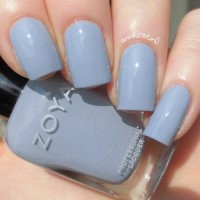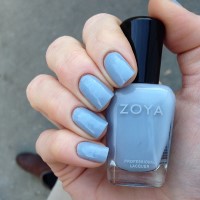 Ratings & Reviews
Summary:

15 Review(s)
Question(s) & Answer(s)
1/14/2018

Kristen

-Great color, bad formula.
I love this color, but the polish itself tends to go on kind of thick and gummy and takes forever to dry.
11/13/2012

Raina

Zoya Nail Polish | Kristentrue to bottle
I definitely think Kristen is true to bottle -- doesn`t wear as "baby blue" on me as previous reviewers were saying. soft and pretty gray/blue!
10/23/2012

Osprey
Location-Tampa, FL

Zoya Nail Polish | KristenBeautiful!
This color is so nice. It is a grey, it`s just a cool grey vs neutral. It does pick up cool tones, which makes it pretty versatile. It is the same grey you`d see on a mourning dove.. soft and lovely! I get compliments for it all the time. Goes on clean and has good staying power. Thanks Zoya!
7/27/2012

WindyCityGrl2013
Location-North Platte, NE

Zoya Nail Polish | KristenCool Baby Blue Color!
I thought this might just be the ticket! I was right. I love this funky color on my nails! Lots of comments on WHERE DID I GET THAT COLOR!! Well it is gorgeous on with 2 coats and is not so much gray but more a massive baby or powder blue color. I would wear this color any time of the year. You had better memorize the name because people are going to ask you...a lot! Be adventurous at 20, 30, 60 or 80 years old.
7/5/2012

Manda

Zoya Nail Polish | KristenLove it!
This is one of my favorite nail polishes ever. It looks perfect after one coat. It works well in all seasons. It is super flattering on my pale skin tone. I love it!
3/20/2012

Kimmer
Location-Michigan

Zoya Nail Polish | KristenLove this color
This color is true to the bottle however when you wear denim it does have a blue cast to it!
3/15/2012

riceball0724

Zoya Nail Polish | KristenA little disappointed....
This was one of my first Zoya polish purchases and I was looking for a light pale gray. However, it is actually a light baby blue with sparse glitter. I don`t know if it`s supoose to have glitter since it is not in the description. So I`m not sure if I got a defective bottle. *Bottom line, if you`re looking for pale gray, then this is probably not the shade for you.
3/14/2012

kccmah

Zoya Nail Polish | KristenWrong color for yellowish skin tone
This color really didn`t compliment my skin tone, which is cool/yellowish. I was looking for a true grey, but Kristen is really bluish more than it is grey.
3/13/2012

PStchr
Location-Mesa, AZ

Zoya Nail Polish | KristenToo blue
I`m a fair-skinned, Irish, reddish-blonde with hazel-blue eyes, and THOUGHT this color would be a nice, pale gray, but instead, looks TOTALLY BLUE on me... looks like a shade one of the preschool students I teach would wear! I don`t mind it at all on my toes, though, for the summer... am ordering a bottle of the new, blue, mylar-fleck color to go over it to see if I like it better on my fingers.
2/15/2012

Zoya Lover
Location-Charlotte, NC.

Zoya Nail Polish | KristenLovin` Kristen
I LOVE THIS COLOR!I have gotten so many compliments about this color.It is so rich and just plain pretty.A great ALL season color.
1/13/2012

myhervaj
Location-Wisconsin

Zoya Nail Polish | KristenNice color
I really like this color! It is not gray at all - but a pretty, cool, blue color. Def something different than the colors I have. This color could be worn during winter or spring.
1/9/2012

ksh929

Zoya Nail Polish | Kristenlove it!
got this as a sample in my january birchbox and i`m in love :)
12/29/2011

texanshopster
Location-santa cruz, ca

Zoya Nail Polish | Kristennothing `mildly blue` about it . . .
Kristen is straight up sky blue-maybe with a touch of gray. not greyish-blue, not grey with a hint of muddy blue, it`s baby freakin` blue with the lightest amount of grey added. which is fine. i like baby blue. just call it what it is. once the pretty marketing images are removed, it doesn`t seem like a "feel" collection color, seems like a gloomy day color. but still nice and the consistency is rich and creamy.
12/26/2011

Shara

Zoya Nail Polish | KristenYOU NEED THIS COLOR
This color is amazing. It`s blue but not overbearingly blue. It went with just about everything that I wore for that week. Just an amazing color--you need this color. As well as all the other colors in the `Feel` collection. Trust me!
11/18/2011

heatherdawne

Zoya Nail Polish | KristenColor true to bottle
The color is very true to the bottle, but not necessarily the image shown for it. The color is really more of a light/baby blue than a gray. It is a beautiful winter shade of cool, pale blue, but if looking for a creamy gray, this isn`t it.
Back to top