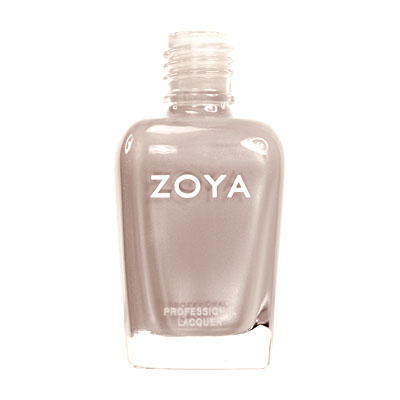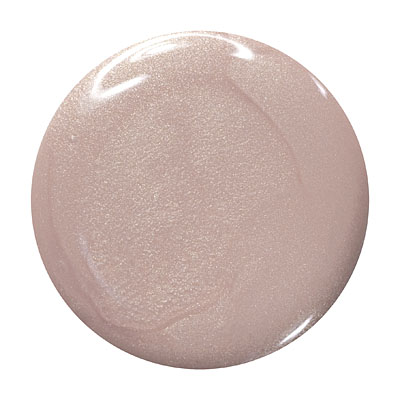 Description
Shay by Zoya can be best described as a dense, fleshy light peach with slight orange-red undertones and a hint of pearly silver shimmer. An opaque, full-coverage nude that compliments warm skin tones.
Nail Polish
Color Family:
Nude
Finish:
Metallic
Coverage:
2 - Coat Coverage
Tone:
Warm
Instructions
For Best Results
Step 1: Clean the nail plate with Remove Plus ( Remove ) nail polish remover and nail plate cleaner
Step 2: Choose and apply the right base coat: Zoya Anchor for regular healthy nails or Zoya GetEven for nails with ridges
Step 3: Apply 2 coats of your favorite Zoya Nail Polish Color
Step 4: Apply a coat of Zoya Armor Top Coat
Step 5: Drop one drop of Zoya Fast Drops to the base of your nail bed
Following these 5 steps guarantees up to 14 days of wear on natural nails.
Shade Spotlight
Shade Spotlight Join our community - Tag your photos #EverydayZoya for a chance to be featured here!
View the Gallery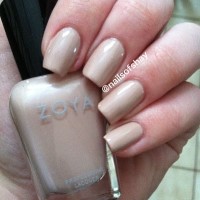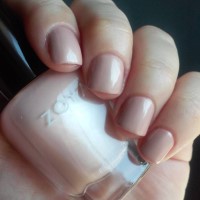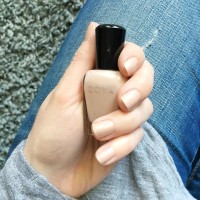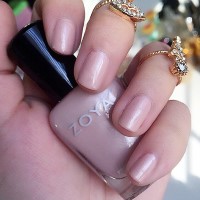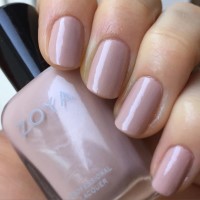 Ratings & Reviews
12

Review

s

Please sign in to write a Review




craiger5305
Location-Falls Church, VA
Consumer Review

Zoya Nail Polish | ShaySigh...
2012-07-24
I love neutrals and I was really excited about Shay, but she did not look good on me... sigh. She`s absolutely beautiful in the bottle and I know she`ll look great on someone with a different skin tone.
talisha
Location-ny, ny
Consumer Review

Zoya Nail Polish | Shayperfect for medium skin
2012-07-06
my FAVORITE zoya color, i am medium skin toned and have the tendency to get very tanned, if this is your skin type then it will work. if you don`t tan, it probably will not work well for you as a full-coverage neutral. Not everyone is pigmented the same, that is why different colors look good with different skin tones.
helenabear
Consumer Review

Zoya Nail Polish | Shayclose but not quite
2012-06-18
I love how opaque this polish is and I love the subtle shimmer. In some lighting I loved this color, but personally I think it was a bit too pink in other lighting. A friend with very warm skin tones tried it out and agreed it was too pink. I have a neutral skin tone so usually I can do warm colors, but this just wasn`t quite right for me.
alisonjdavis
Location-NC
Consumer Review

Zoya Nail Polish | ShayLadylike Neutral
2012-04-30
Love this color...keep going back to it when I have an important meeting or interview at work, or just when I want to feel ladylike and professional. It really works to make my fingers look longer, af it`s just an extension of my skin. It`s more neutral/warm and slightly lighter than it looks online.
mstoll1125
Location-FL
Consumer Review

Zoya Nail Polish | ShayColor changing
2012-01-23
So I brought this nail polish to the salon so the manicurist could use it on my nails for the first time. When she initially put it on it was a beautiful nude. The next morning when I woke up it had turned into a darker shade or pink/lavender!! I`m not sure if it was a reaction with soap or the top coat but I`m not complaining because the color it turned into was gorgeous as well!

Zoya Nail Polish | ShayTHE PERFECT NUDE!!!!
2012-01-21
I absolutely love this polish... it goes on smooth and it goes well with my warm skin tone...thank you zoya!
Chloe
Location-USA
Consumer Review

Zoya Nail Polish | Shay Gorgeous! Love it!
2011-11-09
The reviewer below, who gave only one star because of her personal skintone, is very unfair -- come on!? Shay is one of my top favorite polishes. I love the subtle, yet beautiful shine. It is simple and classy. Such a nice diversion from darks and brights, and it goes with everything.
Medusa000
Location-Silver Spring, MD
Consumer Review

Zoya Nail Polish | ShayBeautiful color, not dull
2011-09-19
Shay is the perfect nude for me! I normally like to wear bright colors such as pinks, corals, and reds. Even looking at Shay on the computer made me want to get it. It is such a beautiful nude, and the creamy metallic finish makes it a more fun color to wear. It looks beautiful on my warm skin tone, and the color looks amazing in the sun! This is definitely one of my top favorite nail polish colors ever! I know I will wear it a lot, and I will purchase back up bottles as this a limited edition collection!
Aly
Location-New Jersey
Consumer Review

Zoya Nail Polish | ShayGreat Nail Polish!
2011-09-19
This is my first Zoya nail polish and it is incredible. It`s pretty opaque with just one coat. I can`t wait to try out other colors.

Zoya Nail Polish | ShayToo Cool
2011-09-03
I am pale, with peach undertones. This color looks bluish against my skin and it`s also darker than my skin - for a nude I think I would need something lighter, with more peach and less blue tones.
I like the subtle shimmer in it though.
Cara
Location-Boulder, CO
Consumer Review

Zoya Nail Polish | ShayMy first nude!
2011-07-30
I had never tried a nude before and this is definitely growing on me. Shay is the color of nude patent pumps with the slightest hint of peach and shimmer. My polish seemed a little darker, more caramel than my color spoon of Shay even with a top coat, but I think the under-side of the spoon really shows what she looks like on your nail. Very pretty!
Angie22
Location-Philly!
Consumer Review

Zoya Nail Polish | ShayLove this nude
2011-06-14
I finally have the perfect nude for me! If you are a warm color tone you will love it!
Add a Review
Review Guidelines
We want to publish your review.

Please avoid inappropriate language, personal contact information, other brands, and external links.