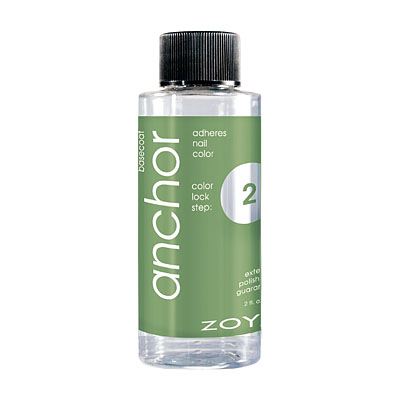 Zoya Anchor Base Coat 2oz Pro Refill ZTAN0P
Size:
Zoya Anchor Base Coat Refill 2oz

Description
Zoya Anchor base coast is a highly durable yet flexible base coat that grips your nail and holds nail polish in place for maximum wear. PLEASE NOTE: The 2oz Pro Refill (ZTAR0P) does NOT come with a brush.
Zoya Nail Treatment
What It Does
Bind color to nail with Zoya Anchor Basecoat. Polish adheres to nail by forming a bond between the nail plate and polish, preventing peeling and chipping. As an added bonus, complex protein chains strengthen nails.
Instructions
Apply one coat to clean, prepped nails.
Ratings & Reviews
12

Review

s

Please sign in to write a Review




Happy
-Texas
Consumer Review

-Amazing
2016-09-08
I used Anchor with a Zoya polish and Armor top coat. Two weeks later when I repolished they still had no chips. I was amazed and cannot say enough good things about this product. I am hard on my nails too.

Zoya Anchor Base Coat 0.5oz/15mlGreat for all but stains
2013-07-05
Goes on thin, dries fast, and holds well. My only complaint is that it doesn`t do the best job of preventing staining from darker polishes
sonja.bachl
Location-Switzerland
Consumer Review

Zoya Anchor Base Coat 0.5oz/15mlDisappointed by Anchor Base
2012-11-13
When I use Anchor Base my nails chip with the polish. Very disappointing.
Dee Dee
Location-Bend, Or
Salon Review

Zoya Anchor Base CoatLead Manicurist
2012-08-21
I am having difficulty with Amore and Anchor. I fill my bottles with the product and they get thick before the bottle is half way gone.

Zoya Anchor Base CoatMore buffing required
2012-08-15
I used zoya anchor regularly for several months (changing my polish twice a week). I had to buff something on my nails every time I removed it. It basically adheres so well that it took pieces of my nail with it when I removed it! On the plus side, I had almost no tip wear with zoya anchor zoya polish zoya armor, after 3-4 days, even though I used my nails for scratching. I just don`t want to use it regularly because all that buffing was weakening my nails. I switched to Chanel base coat and now my nails never need to be buffed but I still get 3-4 days between polish changes.
Lizzy
Location-I
Consumer Review

Zoya Anchor Base Coat 0.5oz/15mlpeeling like crazy
2012-05-07
I can`t believe this is 5 stars! this does not work. I love zoya colors and the "green formula" but this base coat will not stick the color to my nails. One day after applying the color peels like crazy! I have been doing my nails for years and with other brands I get up to 5 days without chipping or peeling.I`m Very disappointing with this products and wont recommend it to anybody :( I wish I can get my money back, because this was a total waist
fordpostalservice
Location-Houston, TX.
Consumer Review

Zoya Anchor Base Coat1st time was a charm!
2012-04-26
I used the base coat along with ZOYA polish, and the top coat for the 1st time on Monday. Normally, by the 2nd day my mani is a hot mess but this time around it still looks fresh. No chips or dips just a brilliant shine. Thanks for saving me! I almost threw in the towel.
Afashionado
Consumer Review

Zoya Anchor Base CoatGreat with Zoya Polishes..
2012-03-26
This base coat works great with my Zoya polishes.. they can last weeks together! However, when I use it with other brands they tend to peel pretty quickly.
Shawnese
Location-Memphis, TN
Salon Review

Zoya Anchor Base CoatNail Professional
2012-01-06
I love this base coat is truly adheres polish to nail plate for prolong wear if used in conjunction with armor top coat
prettyinpink179
Location-SL,UT
Salon Review

Zoya Anchor Base Coat 0.5oz/15mlBEST base coat eva!
2011-12-06
I`m a cosmetologist and have tried several base coats that always chip and peel one day after application. I had given up on them all together until I saw the reviews on this product. I decided to give it a try and I`m so glad I did. I painted my nails three days ago and usually see at least one chip, and so far, my nails look just as good as they did the first day. I`m a die-hard fan now!
lolo91187
Location-NJ
Consumer Review

Zoya Anchor Base CoatHoly Grail of Base Coats
2011-12-03
This base coat is insane. Even the worst nail polish lasts days with it. With my old base I was lucky to get two days out of my polish, but with this I can easily go a week without any problems. I also noticed that my nails don`t peel as much since using Anchor. I don`t ever want to be without it again.

Zoya Anchor Base Coatawesome!
2010-06-23
Drastically increases polish wear and strengthens nails--this is a total must-have!
Add a Review
Review Guidelines
We want to publish your review.

Please avoid inappropriate language, personal contact information, other brands, and external links.