Professional Accounts
Licensed salon & spa professionals can set up a Professional Account which entitles them to professional only pricing, professional only promotions and additional educational and marketing resources available to our salon & spa customers.
If you already have a Professional Account with us, please sign in below with your email and password in the "Sign In to My Professional Account" section.
To create a Salon - Spa Professional Account, please enter your email and a valid Cosmetology License in the section called "Create a Professional Account" below and click the "Create Account" button. You will then be asked for additional information.
Sign In to Your Professional Account
Create a Professional Account
Welcome!

Please Choose One:

Or


tell us
what
you think!
X
We'll email your personal code
No Thanks





Item #
Zoya Renew Nail Polish Rejuvenator

Read Reviews(2)
Select Size
0.5oz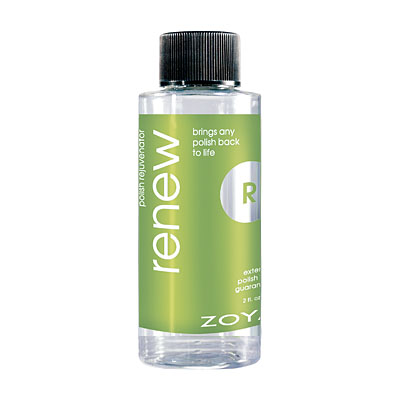 2oz Refill
-
-
- (1 = Sheer - 5 = Opaque)
-



Summary:

2 Review(s)
Question(s) & Answer(s)
Ask a Question
11/9/2011

Colbie
Location-NJ

Zoya Renew Nail Polish Rejuvenator Awesome
Don`t overlook thinning out Armor...worked great, back to it`s original inpenatrable shield..Can you tell I love Armor?
4/16/2011

Firefly
Location-Brooklyn, NY

Zoya Renew Nail Polish RejuvenatorAmazing!
I was skeptical when I bought this product, but it turned my old, thick, nail polishes into the way they were when I first bought them. It is a real money-saver!
Your Review of Zoya Renew Nail Polish Rejuvenator