Page top
Skip top navigation
Professional Accounts
Licensed salon & spa professionals can set up a Professional Account which entitles them to professional only pricing, professional only promotions and additional educational and marketing resources available to our salon & spa customers.
If you already have a Professional Account with us, please sign in below with your email and password in the "Sign In to My Professional Account" section.
To create a Salon - Spa Professional Account, please enter your email and a valid Cosmetology License in the section called "Create a Professional Account" below and click the "Create Account" button. You will then be asked for additional information.
Sign In to Your Professional Account
Create a Professional Account
Welcome!

Please Choose One:

Or

Back to top
feedback
tell us what you think!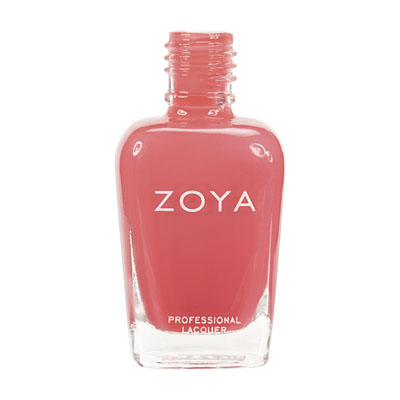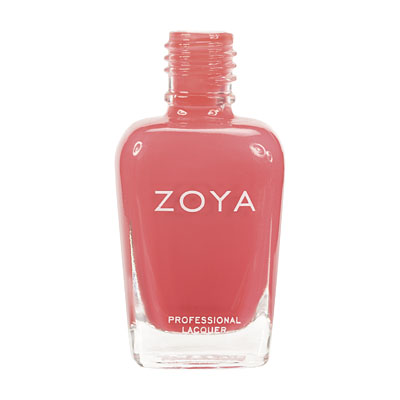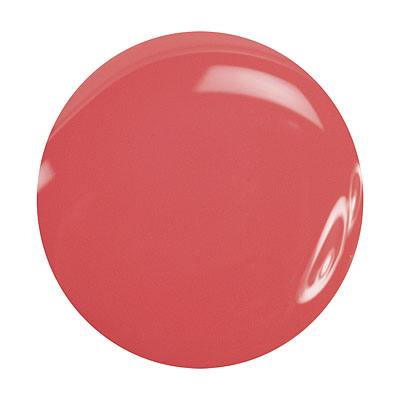 Elodie by Zoya can be best described as a bright and fresh warm melon pink creme with a touch of coral. An essential summer shade for your color wardrobe.
Color Family - Pink, Orange, Coral
Finish - Cream
Intensity - 3 (1 = Sheer - 5 = Opaque)
Tone - Warm

For Best Results
Step 1: Clean the nail plate with Remove Plus ( Remove ) nail polish remover and nail plate cleaner
Step 2: Choose and apply the right base coat: Zoya Anchor for regular healthy nails or Zoya GetEven for nails with ridges
Step 3: Apply 2 coats of your favorite Zoya Nail Polish Color
Step 4: Apply a coat of Zoya Armor Top Coat
Step 5: Drop one drop of Zoya Fast Drops to the base of your nail bed
Following these 5 steps guarantees up to 14 days of wear on natural nails.
Shade Spotlight
Shade Spotlight Join our community - Tag your photos #EverydayZoya for a chance to be featured here!
View the Gallery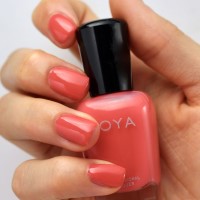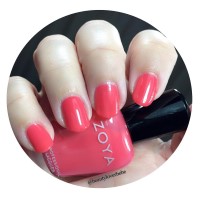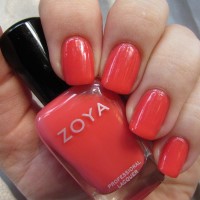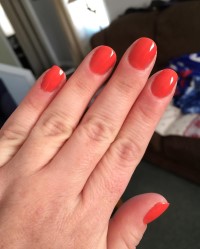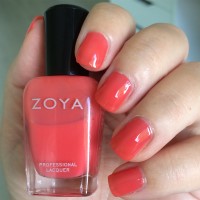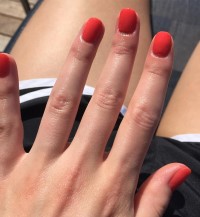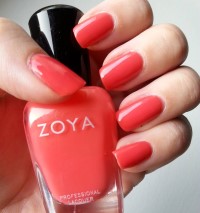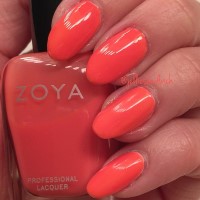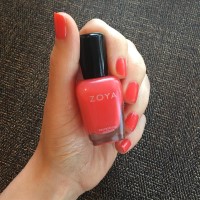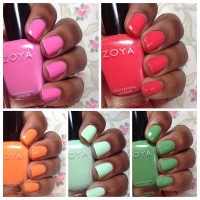 Ratings & Reviews
Summary:

10 Review(s)
Question(s) & Answer(s)
6/21/2017

blondrenee
-California

-Good summer color
I agree, the more layers you add the more opague it gets.
I have maybe a dozen polishes and only had one disappointment and then it was not bad. Zoya has a wonderful safe line of polished and great coupon offers.
7/22/2012

Maya

Zoya Nail Polish | ElodiePerfect Summer Color
This to me is the perfect color to show off your tan , and it goes on smooth and covers in 1 coat .
love.
7/16/2012

DPinMB

Zoya Nail Polish | ElodieNot opaque at all
I love the color, but I hate how sheer it is. I can usually trust Zoya`s 1-5 Opaque scale, but they list this as a "5". It`s a 3 at best. It`s a shame really because the color is just stunning.
5/3/2012

Love2Polish
Location-Houston

Zoya Nail Polish | ElodieThis is awesome
The color goes on really thin but opaque. It dries glossy and fast. I used 2 coats but 3 would be best. Color is close to what is advertise on the page.
4/26/2012

Love my Zoya
Location-La La Land, California

Zoya Nail Polish | ElodieLove love love Elodie
This shade is perfect for the spring and summer! It looks like candy on my hands and toes! I usually apply two coats on my toes and just one on my hands for an easy breezy warm weather look. I get compliments on this color ALL THE TIME! Makes your nails look juicy! It is bright and there is orange to it but you will love it.
4/15/2012

LovesNailArt
Location-Chicago, IL

Zoya Nail Polish | ElodieBeautiful!
I love this polish. It`s a beautiful, juicy shade of coral/watermelon. It goes on really smoothly, and the color dries quickly/doesn`t get messed up easily. I was very pleasantly surprised.
10/1/2011

bonz
Location-California

Zoya Nail Polish | Elodiego-to summer color!
This is my staple pedicure color during summer when I don`t want sparkle on my toes. It really is a "juicy" orangey-pink color. In fact, it looks just like candy! I tend to use 2-3 coats to get opacity. And it lasts for at least 10 days.
7/30/2011

Cara
Location-Boulder, CO

Zoya Nail Polish | ElodieLove it!
The other reviews are right, Elodie is more orange than the pictures above, but definitely still a coral. I actually had another nail polish (my favorite shade) very close to this color, and though I wasn`t expecting Elodie to replace it when I ordered her, I`m SO glad she did because the Zoya polish formula is wwaayy better!
6/15/2011

LaurenMarie

Zoya Nail Polish | ElodieSlightly Misleading
I was hoping for a pretty pinkish coral color. This shade ended up being slightly too orange for me. Still a pretty color, but a little to bold for me (I`m not a fan of wearing orange polishes)
7/26/2010

Beachbabe

Zoya Nail Polish | ElodieElodie
This is such a happy polish shade. Its a beautiful coral creme. Perfect for the summer. Two coats and it lasted up to 7 days with minimal chip wear!
Back to top